Reliable AC Repair Services in Cincinnati, OH
If you need AC Repair Services, Jolly Plumbing Drains Heating and Air is just one call away. Contact us at (513) 443-1315 or schedule a service today.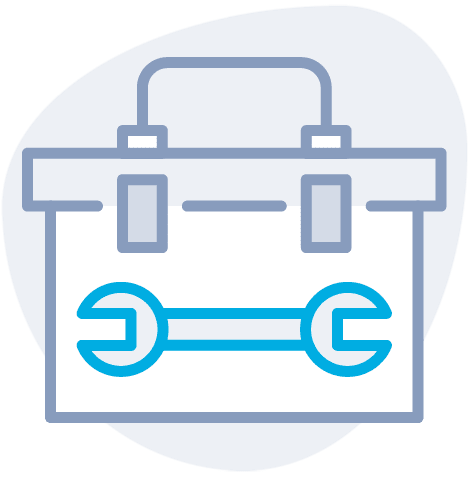 Reliable AC Repair Services
The Cincinnati heat can be unbearable, especially during the summer. 
You may find it hard to relax at home or work in the office if your air conditioning unit is not working correctly. That's why Jolly Plumbing, Drains, Heating, & Air offers top-notch air conditioner repair in Cincinnati.
AC repair is essential to maintaining a comfortable living and working environment and provides plenty of benefits for Cincinnati homeowners and property owners. Our professional technicians are committed to providing fast, reliable, cost-effective services that restore your AC unit's functionality and give you the most comfortable living and working space possible.
The Importance of Regular AC Maintenance
Regular AC maintenance helps ensure your AC unit's maximum performance and efficiency. Not only does it keep your AC unit in tip-top shape, but it can also prevent expensive repairs and replacements and extend the lifespan of your unit.
Additionally, regular AC maintenance helps prevent sudden and unexpected breakdowns, which can cause immense inconvenience and disruption in your daily life. Frequently checking the state of your AC unit maintains its optimal condition, keeps electricity costs low, and allows you to enjoy reliable cooling all year long.
Remember that you should not just let anyone service your AC unit. Hire a professional and experienced technician to diagnose, inspect, and repair your AC unit as needed. If not, you risk further damages and increased repair costs, which can endanger your home and your family's health and safety.
When you need reliable AC repair services in Cincinnati, trust Jolly Plumbing, Drains, Heating, & Air. We have over 40 years of experience providing quality Cincinnati AC repair and maintenance services for residential and commercial clients. With our expertise and up-to-date technology, you can trust us to restore your unit's cooling capabilities quickly and efficiently.
Don't wait until your AC unit fails before getting it checked. Even by yourself, you can detect potential issues with your unit. Stay on the lookout for any of the following signs:
Unusual and loud noises coming from the unit

Inaccurate or inconsistent temperature levels

High humidity levels inside the building

No air or decreased airflow coming out of the vents

Warm air blowing from the vents

Visible buildup around the unit

Leaking or water pooling around the AC unit

Unpleasant odor coming from the unit

Uneven cooling in different parts of your home

Unexpected increase in electricity bills

These signs indicate a problem with your AC unit, including a clogged filter, a broken fan motor, refrigerant leaks, faulty wiring, or ductwork issues. You need to contact a technician to assess the damage and provide solutions immediately.
It's crucial to recognize these signs early to prevent further damage and ensure that your AC unit works effectively. Prompt repair services can help you save time, money, and the hassle of replacing your entire unit.
If you notice these signs, do not hesitate to call Jolly Plumbing, Drains, Heating & Air immediately. We will send an expert technician to your property and determine the issue. We also offer 24/7 emergency services for any urgent repair needs.
While you may be tempted to diagnose and fix your AC issues on your own, we don't recommend it. HVAC systems are complex and require special tools to monitor and repair them. Unless you have experience in the HVAC field, contact us to get the job done right!
Jolly's Approach to AC Repair
At Jolly Plumbing, Drains, Heating & Air, we take pride in delivering dependable, quality AC repair in Cincinnati. Our approach to AC repair is simple:
We will schedule a visit to your location to assess your unit and determine the issue.

Once we know the proper repair solutions, we will provide an onsite quote cost and explain the repair process.

If approved, we will start the project and perform the necessary repairs.

We will check the unit's performance after the repair to ensure it works correctly and efficiently.

You can rely on Jolly Plumbing, Drains, Heating & Air for your AC repair needs. Customer satisfaction is our top priority — we go the extra mile to ensure you're delighted with our services.
Our technicians are certified and highly experienced in the AC repair field. We will promptly diagnose your unit and provide solutions tailored to fit your needs. Plus, we only use state-of-the-art tools and technologies when servicing your AC unit.
There are various types of AC repair services that we offer. Our technicians can handle all kinds of repairs and issues, including:
Refrigerant leak

Drainage issues

Broken compressor fan

Frozen condenser coils

Dirty air filter

Clogged air ducts

Capacitor failure

Leaking ducts

Broken circuit breaker

Faulty wiring and components
Remember to call professionals when it comes to your AC repair needs. Don't endanger your home and your family's health and safety by attempting DIY repairs or hiring an unqualified technician.
For quality AC repair services in the Greater Cincinnati area, trust only the experts at Jolly Plumbing, Drains, Heating & Air. Our expert technicians can handle any issue related to your air conditioning unit.
We also offer AC repair in Northern Kentucky and surrounding areas. Contact us today to book an appointment or request a quote. Don't hesitate to call if you have any questions about our services.
We are available 24/7, so don't hesitate to contact us anytime! Get the peace of mind you deserve with quality AC repair from Jolly Plumbing, Drains, Heating & Air.
Receive Best-in-Class Services Today
AC repair services provide you with the assurance that your air conditioning unit is working correctly and efficiently. It also improves indoor air quality for a more comfortable and safer environment.
With prompt and efficient repair services, you can save time, money, and the hassle of replacing your entire unit in the future. Be sure to call professional AC repair services like Jolly Plumbing, Drains, Heating & Air to get the job done right! You can trust that our technicians are skilled, certified, and highly experienced in all aspects of AC repair.
Contact us today to request a quote and book an appointment. We look forward to hearing from you!