Your Dependable Toilet Repair & Installation in Cincinnati, OH
If you're experiencing toilet problems, Jolly Plumbing Drains Heating and Air is just one call away. Contact us at (513) 443-1315 or schedule a service today.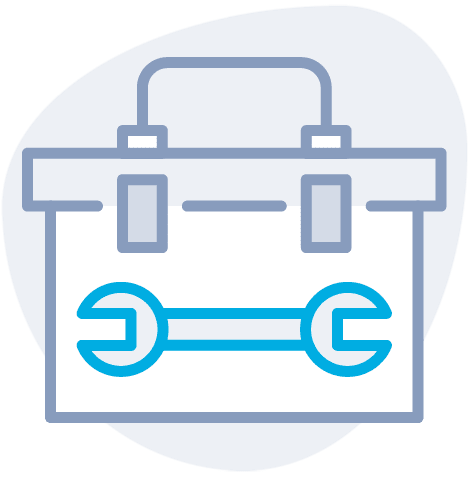 Toilet Repair and Installation
The toilets in our homes play an essential part in day-to-day life. We use these fixtures every few hours, which is why it's vital to ensure that they are always in good working condition.
At Jolly Plumbing Drains Heating and Air, we understand that problems with your toilet can be a huge hassle for your family. That's why we are committed to providing our customers with the best toilet installation and repair solutions.
Whether you're looking to get a bathroom toilet repair, toilet water pump replacement, or a toilet installation service, our team of expert plumbers have you covered. We have many years of combined experience repairing and installing toilets for homeowners in Cincinnati.
Some of the most common toilet repairs we address regularly include:
Toilet leaks
Stubborn clogs
Broken toilet flappers
Slow-filling toilets
Issues with toilet tanks
In case a problem can't be resolved through our Cincinnati toilet repair services, we'd often recommend a brand new plumbing toilet installation instead. We service homeowners located in Northern Kentucky and the greater Cincinnati areas.
If you're experiencing toilet problems, Jolly Plumbing Drains Heating and Air is just one call away. Contact us at (513) 443-1315 or schedule a service today.
Warning Signs of Imminent
Toilet Repair
We aim to educate our customers on how they can identify common toilet problems before they turn into an emergency. In most cases, there are common warning signs that will help you recognize when parts of your toilet have become worn and need repair.
Here are the three most prevalent indications that you'll need toilet repair soon:
Your Toilet Starts To Leak
One of the most common signs your toilet will start requiring repairs soon is when it begins to leak. A toilet that leaks at the base normally indicates that it will need a new seal.
Although this is something you can do on your own, it can be quite messy since it has to be done correctly. You also have to remove the toilet and then reinstall it the right way once the seal is intact.
If you notice leaking in other areas, you might have cracks in various locations. This is where you'll need to call in an expert plumber to help you out.
Your Toilet Is Constantly Clogged
There are times when guests or other people in the household accidentally flush items down the toilet that aren't meant to be flushed. When this happens, it can lead to your toilet getting clogged up and failing to function normally.
If you notice your toilet constantly clogging when you need it the most, you might have a blockage. Whatever the problem may be, you'll need the help of a professional plumber to address this issue the right way.
Your Toilet Is Always Running
A toilet that's constantly running might have a problem with its flapper valve, which normally just has to be jiggled. But if you end up having to jiggle it regularly, you might need to replace the flapper or purchase a new toilet.
To ensure you're making the right choice, it's best to bring in a toilet repair and installation expert. This person can perform the appropriate inspection and inform you whether your toilet can be repaired or if you have to replace it altogether.
Why Get Help From a Plumbing Technician for Toilet Repair?
Besides being mindful of what you shouldn't flush down your toilet, you should also avoid pouring harmful chemicals that can degrade the quality of your fixture. These products can cause corrosion and damage your toilet far more than a common clog can.
In other words, attempting to fix a simple toilet clog using chemicals can become a huge problem if you don't have it handled by an experienced plumber.
That's why at Jolly Plumbing, Drains, Heating, and Air, we recommend calling our plumbing professionals as their many years of experience in the industry guarantee accurate solutions to your toilet concerns. Our team has all of the equipment and resources necessary to repair or install a new toilet for your bathrooms.
If you find that a regular plunger or drain snake isn't getting the job done, then you should bring in the experts. Call us at (513) 443-1315 or schedule a service today.
Getting Toilet Installation Service From the Pros
There are instances where a toilet simply can't be brought back to a functional state through normal repairs and has to be replaced instead. Our team at Jolly has you covered in this aspect as well.
The plumber we send can take out your old toilet and install a brand new fixture, so you can get things back to normal as soon as possible. You don't have to worry about losing precious hours in your day just to have your toilet issue fixed.
Before recommending a new toilet installation, we'll carefully consider the condition and age of your toilet. We'll also assess the problem specifically to make sure that we're making the right choice.
You can also rely on us if you need to install a brand new toilet in a recently-renovated part of your home or in other similar situations. Our plumbers are proficient in quick toilet installations, so you can focus on other more important activities.
Why Choose Us for Toilet Repair and Installation in Cincinnati
There are several reasons why homeowners in Cincinnati constantly rely on us when it comes to their plumbing concerns. We treat each job as our own, and no matter the size of a project, we'll make sure you get the same care and precision from start to finish.
Whether you just need a quick seal fix or a brand new toilet replacement, we're here for you. The following are the main reasons why you should choose us for Cincinnati toilet repair and installation services:
We Go the Extra Mile for Our Customers
We know that there are many choices in Cincinnati concerning plumbing services, but we believe we're the best choice for your needs. We show our appreciation to customers by going the extra mile when we work on their projects.
You can also expect the following benefits when you choose us:
Transparent pricing: Our transparent and flat-rate pricing ensures that customers always know how much to expect even before we start the service. You don't have to worry about surprise charges once we're done.
Guaranteed satisfaction: We believe in the quality of our work, but if you're somehow unsatisfied with our service, we'll not rest until we've resolved the issue, and you're happy with the job.
We Prioritize Your Safety
We know the importance of maintaining a safe and comfortable home. Plumbing that hasn't been done correctly can make your property vulnerable to contamination and other safety hazards.
That's why Jolly  is here. We only send out trained and experienced technicians who are knowledgeable about the latest equipment and best practices in the industry. You can rest easy knowing that you'll get only the safest and most effective plumbing repairs and installations from us.
We Are Trusted By the Local Community
When you choose us, you'll get to enjoy the same peace of mind that many homeowners in Cincinnati have felt when working with us. Our licensed plumbing technicians ensure that you'll feel confident knowing that the professionals entering your home are experts in what they do.
We're committed to providing all of our customers with the highest level of work ethic and quality when it comes to toilet repairs and installations. When you choose Jolly, you're choosing to get the quality solutions that you deserve.
Get Professional Toilet Repair and Installation in Cincinnati
Each month, we send our team of plumbing experts to work on residences and commercial properties that are having issues with their toilets. We know how inconvenient these toilet problems can be, which is why our technicians do their best to accomplish these repairs as quickly as possible.
Once the job is done, our plumbers will provide you with advice on how you can make your toilets last as long as possible to save on cost.
Although toilet problems such as clogs and leaks may not seem like an emergency for you, getting them repaired as soon as possible is essential. Leaving these issues unattended for a long time may cause further damage to your bathroom fixture.
No matter if you need toilet repair or installation of a new one, our team at Jolly has you covered. Don't let these plumbing issues cause further discomfort to you and your family. Leave it to us, and we'll make sure to solve them for you as quickly as possible.
Furthermore, we'll ensure that you're 100% satisfied with our work, or we'll come back to your home and address whatever issue you might still have.
For your plumbing needs in Northern Kentucky and the greater Cincinnati areas, please call (513) 443-1315 or get in touch with us through our website to schedule an appointment.