Your AC System Check in Cincinnati, OH
If you're experiencing AC problems, Jolly Plumbing Drains Heating and Air is just one call away. Contact us at (513) 443-1315 or schedule a service today.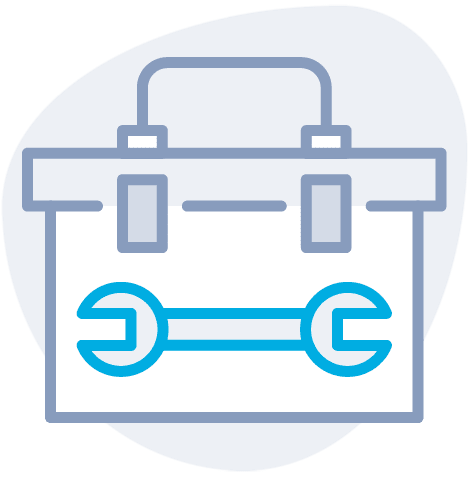 Air conditioning has become a staple in modern homes and offices. It is a necessity to keep us cool in the blistering heat of summer. But, with this privilege comes the responsibility of maintaining your air conditioning unit.
At Jolly Plumbing, Drains, Heating, & Cooling, we provide tune-up air conditioner services that will help you stay cool and comfortable in the summer. Our certified technicians can come to your home or business in Cincinnati or Kentucky to inspect and maintain your air conditioning system.
Regular air conditioner maintenance is an essential service that provides numerous benefits for homeowners and property owners. Not only will it reduce the risk of unexpected breakdowns but it can also help to keep your energy bills down.
The Benefits of Regular Air Conditioner Maintenance
One of the primary benefits of regular AC maintenance is to prevent breakdowns. Taking the time to have your air conditioner tuned up each year can help you avoid costly repairs and keep your system running smoothly for years to come.
Without regular maintenance, it's easy for small problems to turn into big ones. A thorough tune-up can identify those small issues before they become major ones and save you time and money in the long run.
AC maintenance also helps improve your system's efficiency, so it doesn't have to work as hard to cool your home or office. That means lower energy costs for you, and a smaller carbon footprint for the planet. Energy efficiency is just one more way regular AC maintenance can save you money.
It's recommended to enlist the help of professionals like us at Jolly Plumbing, Drains, Heating, & Cooling to maintain and tune up your AC because we have the expertise and experience to do it properly. We have the knowledge to diagnose any problems that might be hindering your AC's performance, and we have the tools to get them fixed quickly and efficiently.
Our Approach to Air Conditioner Maintenance
We believe that AC maintenance is an important part of keeping your home comfortable and efficient. That's why our HVAC technicians take the time to conduct a comprehensive tune up for all air conditioning systems. We know that your AC is an investment, so we strive to make sure it runs at peak performance for as long as possible.
When you hire Jolly Plumbing, Drains, Heating & Cooling for your AC system check service in Cincinnati or Kentucky, our experienced technicians can provide you with the best service in the area. We use special diagnostic tools to identify potential problems and make sure that any necessary repairs or replacements are completed quickly and efficiently.
Our technicians also inspect all components of your air conditioning system, including the condenser unit, evaporator coil, refrigerant lines, blower fan motor, and more. This helps to ensure that your AC is running efficiently and effectively while helping you save money on energy bills.
If needed, we offer preventative maintenance services for all makes and models of AC units. This includes changing the filters, cleaning coils, and other measures to keep your system running in tip-top shape.
We make sure to provide the best service to our clients. Your satisfaction is always our top priority, and we guarantee that you will be completely satisfied with the results.
Aside from our commitment to service, our expertise and experience will ensure that your system is running at peak performance. We have years of experience in the industry and our technicians are professionally certified to work on all types of air conditioning systems.
What Is Included in an Air Conditioner Maintenance Service?
We understand how important it is for you to keep your unit functioning at its peak performance throughout the season. That's why our team of experts will take their time with every job they do — ensuring all parts are checked and working properly.
Our AC Check services include:
Assessment
Our AC maintenance services begin with a comprehensive inspection of your air conditioner system. Our certified technicians will assess the following items:
Thermostat settings

Refrigerant levels

Air filter status

Electrical connections and wiring

Blower components and motor performance

Filters, hoses, pipes, and ducts

Fan motors

Condensate drain lines

Evaporator coils

Belts
Testing
We'll also test the refrigerant levels to make sure the system is working properly. This includes checking the temperature, humidity, and airflow in each room. We'll also check for any leaks or blockages that could be causing your system to not run efficiently.
Adjustment
Our technicians will adjust your AC system, particularly the blower settings, to ensure maximum efficiency. The adjustment process involves setting the correct airflow, static pressure, and temperature.
Safe Disposal
Tuning up an AC system involves handling refrigerant, and careless disposal of this material can cause harm to your household and the environment. Jolly Plumbing, Drains, Heating, & Cooling will properly dispose of any refrigerant materials used in servicing your AC system so that you can rest assured that it is done safely and responsibly.
We're here to help you make sure that your air conditioning system is running at its best. Our experienced professionals are ready to provide you with top-notch AC system check in Cincinnati and Kentucky. Give us a call at (513) 427-0929 or visit our website to learn more about how we can help you keep your air conditioning in top condition. Request a quote or schedule an appointment today!
Regular AC system checks can help you save energy, money, and headaches. At Jolly, we provide top-notch AC system checks in Kentucky and Cincinnati to make sure your air conditioning unit is running efficiently all year round.
Our team of experienced technicians can help identify any issues before they cause further damage, while also providing preventive maintenance that ensures optimal performance from your AC system. Whether you need an inspection or a complete overhaul, our experts are here to get your AC unit up and running in no time. Contact us today to learn more about our AC system check services.