Furnace Replacement and Installation in Cincinnati | Jolly Plumbing, Drains, Heating, & Air
Need a new furnace? Get high-quality furnace replacement and furnace installation in Cincinnati from the Jolly team. Schedule your service today.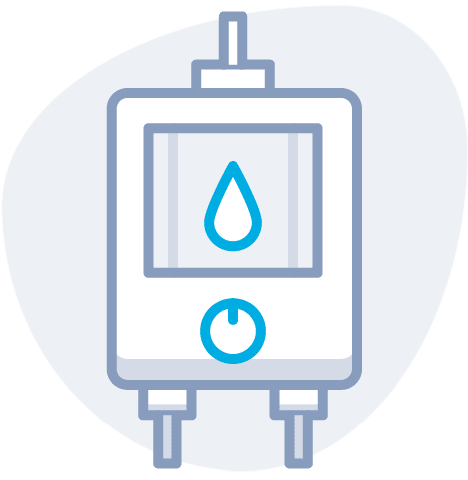 Cincinnati Furnace Replacement and Installation
Furnace heating systems are an integral part of many homes in the Greater Cincinnati area. That is why homeowners take care of their furnaces. However, like all parts of our home, furnaces eventually reach their limit and require replacing.
The process of getting a furnace replacement and installation in Cincinnati can become overwhelming. Having a trustworthy and skilled furnace installer can make all the difference.
Jolly Plumbing, Drains, Heating, & Air has helped Cincinnati residents improve the efficiency of their furnace systems and keep their energy bills from getting too high for years. No matter what type of furnace you need or heating issues you face, our professional team can help you find the perfect new furnace and ensure that it's properly installed in your home.
Schedule a service today.
When To Consider a Furnace Replacement in Cincinnati
Furnaces can last for many years, but there will still come a time when you will need to replace them. On average, a furnace can last between 15 to 20 years. With regular upkeep and proper maintenance, you can extend your furnace's lifespan up to 30 years.
Knowing how long a furnace lasts will help you plan for its eventual replacement and budget it in your household expenses. Meanwhile, if you know the signs that indicate that it's time to replace your furnace, you can avoid any accidents like a breakdown in the middle of winter.
Furnaces that are at least a decade old are more likely to break down or have other problems. This is natural as the furnaces slowly start to show signs of their age. In some cases, a simple furnace repair might be enough to save it from getting replaced even after breaking down.
However, if your furnace checks the boxes for one or more of the following signs, then it may be time to call Jolly!.
Five Signs It's Time for a Furnace Replacement
Your furnace makes weird noises or produces soot: These noises include popping, booming, clicking, rattling, or other unfamiliar sounds. If your furnace produces soot, that is a sign that it is becoming less efficient — a clear sign you need a new furnace.
You experience uneven temperatures inside your home: Uneven or fluctuating temperatures across different rooms in your home is a sign that your furnace is no longer able to properly or efficiently circulate heat.
Your furnace is over 15 years old: Furnaces start becoming more likely to have issues once they reach the 15-year mark, with parts starting to wear out and require more maintenance or repairs.
Your furnace requires frequent repairs: Repairs are great solutions for one-off or occasional problems. However, frequent repairs can become more expensive than a one-time replacement in the long run.
Furnace Installation in Cincinnati
Furnace installation is not always simple. Our crew does not just come into your home, put in your new furnace, and call it a day — we can do all that and much more.
At Jolly Plumbing, Drains, Heating & Air, our furnace installation services and expertise extends to determining the best type of furnace and finding the most ideal spot to install it in, so it works properly and efficiently.
If you are not planning on installing your new furnace in a different spot than your current one, then installation will be relatively straightforward. However, if the best furnace for your home is an electric furnace, and your old one is a gas furnace, then your assigned furnace installer will put your new one in a more ventilated spot.
That is why we provide complimentary consultations to all our customers rather than going straight in with the installation. We help you find the right heating system to ensure that you not only enjoy warmth in your home but also optimum energy efficiency and lower utility bills.
Why Expert Furnace Installation Is Important
The type or model of furnace you get are not the only indicators of its efficiency. If you want a highly efficient and effective furnace, you also need to ensure that it is correctly installed.
Expert furnace installation can help improve the overall performance of your furnace. On the other hand, bad furnace installation can lead to the following consequences:
Shorter lifespan for your furnace
Lower furnace efficiency, despite the model or make
Higher heating or energy bills
Lower comfort and more problems
What To Expect From the Jolly Team
With Jolly Plumbing, Drains, Heating, & Air you can expect professional workers, outstanding customer service, and excellent results. Our furnace installation and replacement team are all experts in their field. They can not only help you find the best furnace replacement but also ensure that it's properly installed.
When you call us for a consultation, we can give you a custom quotation. We can also schedule a quick visit in order to get a better idea of what you truly need. Our experts will help you find the best furnace system and the optimal place to put it in for more efficient home heating.
Once you have decided on your furnace system for your home and budget, we can schedule the installation right away. Whether you need it on the same day or in the coming weekend, our professional crew will show up and get the job done promptly.
Greater Cincinnati area homeowners can rely on our well-trained and highly skilled technicians to get any furnace replacement and installation job done correctly and quickly. Best of all, we maintain fair and reasonable rates for all our top-notch services.
Get in touch with us to schedule your furnace replacement or installation. Call (513) 644-5212 today.