Your Dependable Faucet Repair in Cincinnati, OH
If you're experiencing faucet problems, Jolly Plumbing Drains Heating and Air is just one call away. Contact us at (513) 443-1315 or schedule a service today.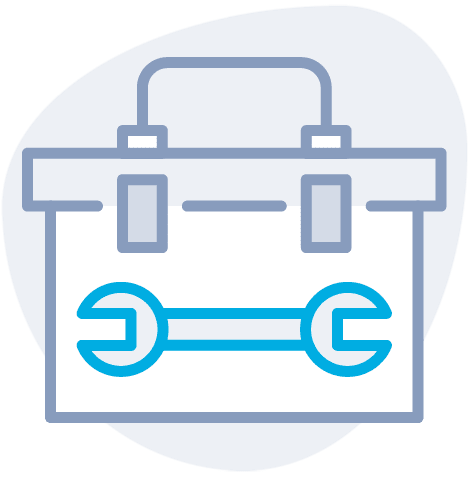 Faucets are an integral part of your home. They are responsible for bringing water into your home and must function correctly. If you have any issues with your faucets or want to have them installed or repaired, Jolly Plumbing, Heating & Air is here to help! We are a company that specializes in faucet installation and repair, and we would be more than happy to assist you.
Jolly Plumbing, Heating & Air has been a faucet installation service provider for years, and our experienced professionals are the best in the business. We understand how important it is to have functioning faucets, and we will do everything we can to meet your needs. We offer a variety of services, including faucet installation, repair, and replacement. So no matter what your needs may be, whether you need a plumber to replace the spigot, we are confident that we can help you.
Common Faucet Problems for Homeowners
These are the common faucet problems that homeowners may face:
Leaks
Over time, faucets can develop leaks. The most common reason for a leaky faucet is a worn-out rubber washer. When the washer deteriorates, it no longer forms a tight seal against the metal valve seat, allowing water to seep through.
It is essential to know how to identify a leaky faucet and fix it. A leaking faucet wastes both water and money if left unchecked.
It may seem easy enough to repair on your own. However, if not done correctly, it could lead to further damage and an increased repair bill.
Low Water Pressure
Low water pressure is one of the most common faucet problems. A faulty aerator, clogged pipes, or mineral deposits could be the reason for your water's lack of pressure. If you have this problem, our experienced technicians can quickly diagnose the cause and get your faucet working again.
No Water
If you turn on your faucet and no water comes out, the first thing to do is check your home's main water shut-off valve. If it's in the ON position, then the problem is likely with your home's water pressure.
Having no water coming out of your faucets indicates a much more severe problem that requires a professional plumber's expertise. For example, there might be a problem with one of your home's pipes or a problem with the municipal water supply.
Rust and Stains
Over time, your faucet may show rust or other mineral stains. This is usually due to water conditions in your area but can also be caused by using the wrong type of cleaning products on your fixtures.
Rust and stains on your faucet should be removed immediately, as they can cause harm to you and your household's health. Not only are they unsightly, but they can also lead to leaks and other problems with your plumbing.
​
Our expert plumbers are proficient in repairing all types of faucets, such as:
Ball-Type Faucets
A ball-type faucet is characterized by a single handle that controls both the volume of water flow and the temperature. The handle sits atop a ball that regulates a mix of hot and cold water as it flows through the faucet. Over time, the rubber seats and springs inside the faucet can become worn, causing leaks. You may also see wear around the base of the handle.
Ball-type faucet repairs entail replacing the seats and springs and cleaning or replacing the O-rings. In some cases, it may be necessary to replace the ball itself.
Cartridge Faucets
On the other hand, Cartridge faucets have a single handle that controls the water temperature and flow rate. The cartridge is a replaceable cylindrical piece that functions as the valve seat. When you turn on a cartridge faucet, water flows through tiny holes in the cartridge itself.
To repair cartridge faucets, you must first identify the problem. If your faucet leaks, you may need to replace the O-ring or cartridge. If the handle is difficult to turn, you may need to lubricate the cartridge with the plumber's grease. If there is a complete loss of water pressure, you will need to clean or replace the aerator.
Compression Faucets
Lastly, compression faucets are the most common type of faucet. They have two handles, one for hot water and one for cold, that control separate washer-and-valve assemblies. The valves open and close by lifting a small knob or handle.
For compression faucets, repair means having to disassemble the faucet. This is because compression faucets have washers that wear out and need to be replaced from time to time.
Types of Faucet Installations
We can perform faucet installations for any part of your home:
Kitchen Faucet Installation
A kitchen faucet is necessary for every home as it is used daily. When you need to install kitchen faucets or have your current one repaired, the experts at Jolly Plumbing Heating & Air are here to help.
We will install any kitchen faucet, including:
Pull-down kitchen faucets
Pull-out kitchen faucets
Touchless kitchen faucets
The most important part of kitchen faucet installation is ensuring that the water lines are correctly installed. If not, you could end up with a leaky faucet. Our experts will ensure that your kitchen faucet is installed correctly, so you don't have to worry about leaks.
Bathroom Faucet Installation
It can be tricky to install faucets in your bathroom, but our experienced professionals will ensure that your new faucet is installed and working perfectly. We also offer a wide range of repair services if you have a bathroom faucet that is not working correctly.
For your bathroom faucet, you should make sure that:
The water lines are correctly connected
The faucet is securely mounted to the sink or countertop
There are no leaks around the base of the faucet
The handles are working correctly and don't feel loose
The hot and cold water are flowing correctly from the faucet
Laundry Room Faucet Installation
People often neglect their laundry room faucets, but these fixtures see a lot of use. If your laundry room faucet is old, outdated, or simply not working correctly, it might be time for an upgrade. At Jolly, our experts can help you select and install the perfect new faucet for your laundry room.
You can choose from a wide variety of faucet styles, including:
Standard faucets
Wall-mounted faucets
Freestanding faucets
Automatic shut-off faucets
No matter what type of laundry room faucet you need, we can help. We'll even take care of all the installation work for you, so you don't have to lift a finger. All you need to do is sit back and relax while we care for everything.
Faucet Installation and Repair with a Smile
Our expert plumbers at Jolly are here to help with all your faucet needs. We've got you covered if you need a plumber to replace the kitchen faucet or install a new one quickly and efficiently.
We understand that plumbing problems can be a pain, so we always aim to provide excellent customer service with a smile. Our plumbers are highly trained and experienced, so you can rest assured that your problem will be fixed right the first time.
If you need a faucet installation or repair, don't hesitate to give us a call today!