Quality Cincinnati Furnace Repair Services for a Jolly Home
Do you need furnace HVAC repair services? Learn the risks and signs of a damaged heating system and contact the best Cincinnati furnace repair provider.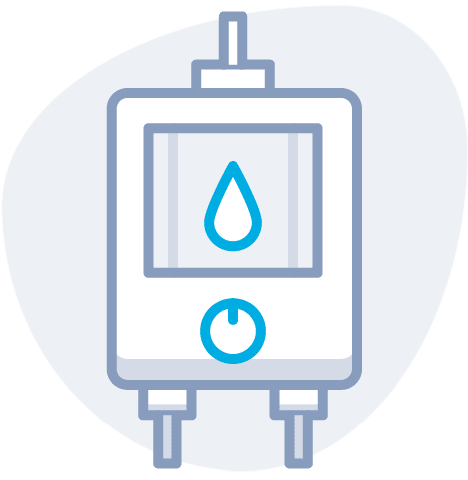 Cincinnati & Northern Kentucky Furnace Repair
Are you experiencing heating issues and other furnace problems? These problems can be a drag, especially during the winter, but don't worry. Jolly Plumbing, Drains, Heating, & Air has you covered. With decades of experience, we provide quick and reliable Cincinnati heating repair services. Contact us now to see how we can address your heater furnace repair needs.
Risks and Inconvenience Caused by a Faulty Furnace
Your furnace helps keep you warm and cozy. However, when damaged, these heating systems can cause a lot of headaches — from tolerable inconveniences to potentially life-threatening hazards.
Some furnace problems can cause fires, so don't be complacent if you experience or notice any issues with your heating system. From 2017 to 2019, an estimated 34,200 annual heating fire incidents in residential homes were reported, leading to hundreds of casualties and millions in property damage. To avoid this dangerous outcome, call on professionals when you see troubling signs from your heating system.
Breathing and Other Health Problems
Aside from fire, a defective furnace can also cause health problems. You might experience sudden headaches, nausea, fatigue, or breathing difficulties in your building or home. Other factors like your lifestyle and diet may cause these issues, but the true hidden cause could also be your furnace.
A furnace's heat exchanger is responsible for removing toxic gasses that form from the combustion process. If this part becomes damaged, harmful gasses like carbon monoxide can accumulate and lead to physical side effects.
Uneven heat distribution or varying temperatures in your home or building may be caused by a dirty or damaged furnace. Heating issues can impact worker productivity or customer satisfaction in commercial buildings and cause discomfort on residential occupants. While an air filter replacement might do the trick, the problem is sometimes caused by a more serious mechanical defect.
Premature System Deterioration
Furnaces don't come cheap, and some reach prices in the tens of thousands. It's a financial nightmare if your furnace breaks down in just a few years. If you see signs of deterioration like rust build-up, there might be problems in your furnace's air flow mechanism. This problem can escalate quickly, so addressing the issue promptly is key to avoiding premature system deterioration and expensive replacement costs.
Increased Energy Consumption and Cost
Speaking of financial nightmares, an energy-inefficient furnace can lead to gas cost spikes that get progressively worse every year. The culprit may be faulty parts or just the heating system's old age. By the time your furnace hits 10 years old, it's projected to have lost 10% of its annual fuel utilization efficiency (AFUE). Regardless of the proximate cause, a gas furnace repair can solve the efficiency problem and give your aging furnace a new lease on life.
When Is It Time for a Furnace HVAC Repair?
From peculiar scents to annoying ticking noises, there are several telltale signs that your heating system is due for a heat furnace repair.
Is there a lingering foul smell — like the scent of rotting eggs — that permeates your house even after you've done extensive cleaning? If so, there might be a gas leak in your furnace. The unpleasant smell might be caused by the chemical mercaptan or methanethiol. It's intentionally included in the design of the system and acts as a warning mechanism for gas leak problems.
If your house has these lingering scents, immediately call professional services. The problems that these leaks can cause go way beyond nasal discomfort. They can also make your furnace inefficient, driving energy costs upwards. Worst of all, they make your home or building a fire hazard.
Pooling Water and Steam Accumulation
Do you constantly have to mop off puddles of water or vent out accumulated steam in the area where your furnace is? Pooling water and steam build-up are common indicators of a faulty heating system, which is especially prevalent in furnaces and boiler systems located in basements.
There are a multitude of reasons for what could be causing the issues — a defective humidifier, clogged vents, leaking valves, damaged heat exchangers, or frozen coils. Calling a furnace repair specialist in Cincinnati is advisable to determine the actual cause and avoid buying unnecessary parts.
Dust build-up is inevitable. However, if the surfaces in your home or office start accumulating dust rather quickly and in huge quantities, then it might be time for a furnace repair.
Damaged or old furnaces may have difficulty providing your residential or commercial space with heating, so they have to work on overdrive. This leads to an overburdened air filter and excessive dust build-up. A professional should be able to provide a quick and long-term fix to this problem.
Rattling and Squeaking Noises
Similar to most home appliances, a constant and abnormal sound coming from your furnace indicates a problem. You may be hearing subtle or loud rumbling noises or even worrisome squeaking and rattling. Don't ignore these nuisances as they are usually signs of internal complications like reduced airflow, obstructed burners, or mechanical failure. Also, if you lack technical knowledge, it's best to call on reliable furnace HVAC repair services to handle the problem and avoid further extending the damage.
Inspect the color of the burner flames. If it's blue, then your furnace is probably in good working order. However, if it's yellow or orange, then your burner might be contaminated or dirty. An excessive accumulation of dirt and dust can cause your burner to malfunction and lead to further damage to the furnace.
Consider calling a Cincinnati furnace repair specialist like Jolly to properly remove the dirt and check for factors — like a defective burner — that might be contributing to the excessive accumulation of debris.
Constantly Running Fan or Blower
If your furnace's fans and blowers refuse to shut down, the first thing you should do is check your thermostat settings. Make sure that it is set to "auto" and not "on."
If the problem persists, you might already have a furnace problem. The fan or blower might be defective, or there might be a mechanical or electrical connection issue between your thermostat and furnace. At this point, you should seek reliable heater furnace repair services for a proper assessment and repair.
Insufficient Heat Generation
The most noticeable sign to ask for Cincinnati furnace repair is when your heating system no longer provides sufficient heat. This insufficient heat generation is a big problem considering that the majority of homes in the U.S. rely on furnaces for their primary source of heating during winter.
A furnace that cranks out little to no hot air is usually a sign of a burner or pilot light problem. Moreover, a busted or clogged air filter may be the culprit. To fix the issue and ensure that you'll get adequate heating when the colder seasons come, get professional furnace HVAC repair services from Jolly.
Why Should You Get Heating Furnace Service From Us?
At Jolly Plumbing, Drains, Heating, and Air, we pride ourselves on offering world-class furnace HVAC repair services to our clients in Cincinnati. We've been in the industry for over 40 years, so we're masters of our craft. We treat our customers' concerns as our own and provide repair services that cater to the specific needs of each individual client.
Also, we've already built a strong reputation for providing friendly, prompt, and affordable solutions to the residential and commercial heating problems of our customers. We even offer financing plans to ease the financial impact.
You can conveniently schedule a heating or furnace service online. From there, we'll dispatch expert HVAC technicians to your doorstep and guarantee long-term solutions to your heating troubles. Lastly, with our 24-hour emergency phone service, you can easily get in touch with us at any time.
Let Experts Handle Your Furnace Repair Needs
Whether it's assessing the cause of the noises your furnace makes or replacing the damaged burner, our experts at Jolly can handle your furnace repairs. Call us or visit our website to learn more about our Cincinnati furnace repair services.