Sewer Line Repair at Jolly Plumbing
For all your sewer needs, you can count on Jolly Plumbing to provide you with the right solutions. We're the team you can count on.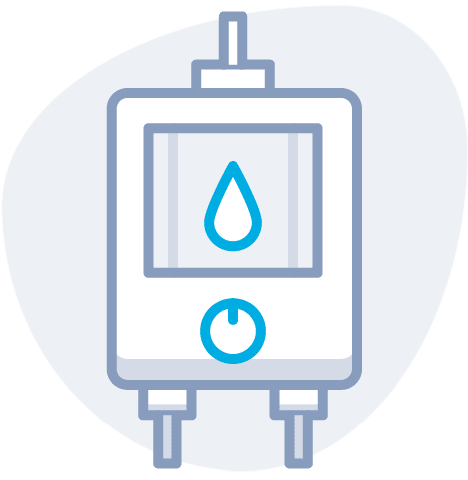 Sewer Line Repair: Cincinnati and Beyond
Are you looking for a sewer repair company around Cincinnati and northern Kentucky? You're in luck — at Jolly Plumbing, you can find us in these areas, ready to provide stellar sewer line services.
No matter what you flush down the sink or toilet, you need to ensure that items will smoothly flow down the sewer line and into the city sewer to be disposed of. Unfortunately, there are many things that can get stuck and clog up your sewer line.
Foreign items, grease, food, paper, hair, and even tree roots can make their way into pipes through cracks, and all these items can accumulate to completely block off wastewater. Repairs to sewer lines are never an easy job and will always require access to the pipes underneath your home.
As such, it's imperative that you get a team of experts to keep the structural integrity of your sewer lines. Our experienced team of professionals is here to ensure that repairs are always executed to perfection, and our licensed plumbers are fully equipped to perform all kinds of repairs.
Jolly Plumbing is a sewage repair company that serves clients throughout the Cincinnati and Kentucky areas. Whether you have a collapsed sewer line or are in need of drain and sewer repair, our plumbers are well-equipped and trained to help you.
Sewer Line Service for Kentucky Homes
Most sewer pipe repair companies will only offer a few select services, but you can count on our team at Jolly Plumbing to provide a wide range of comprehensive services to ensure that all your needs are met. To correctly determine the kind of services you'll need, our plumbers will provide you with an inspection to accurately diagnose the problems your sewer line is experiencing.
Jolly Plumbing can help with a wide range of sewer line repairs, installations, and replacements, which include the following.
If you find yourself smelling sewer gas around your home, this could be a sign of a damaged sewer pipe. When gasses from the sewer escape into a house, families can be put in danger from gas exposure.
As such, the sewer system needs to be airtight, so sewage can smoothly flow out from your home, protecting the occupants from sewer gas.
Because the roots of shrubs and trees are always looking for sources of water, they may end up invading the sewer pipes underneath your home. Roots may start to gather around your pipe. These are strong enough to break through the exterior of a pipe to gain access to the wastewater inside.
The roots may continue to get bigger inside the pipe, catching different waste materials and may eventually cause the pipe to clog up.
As time passes, things like food, toilet paper, grease, and more can begin to accumulate in your pipes, restricting water flow through the sewers. Once a blockage forms and clogs up sewage, it can't go anywhere else but back into your home.
In the best-case scenario, you may have some water come back up from your drains. In the worst-case scenario, you might find sewage inside your sinks or tubs.
Sewer pipes under a home can become damaged when the soil moves, settles, or freezes. These movements can cause the pipes to collapse or crack; through these holes, sewage may soak into the surrounding soil.
As such, materials like small rocks, tree roots, and the soil itself can get into the pipes and cause even more problems, such as clogging.
Underground leaks as a result of damaged pipes can make parts of your yard extremely lush and fertile. This is because of the extra nutrients that your plants may receive from sewer water and waste.
A leak must be repaired immediately to prevent the contamination of soil around your home, while protecting you from potential drainage problems.
Through the years, the pipes used for our home's sewage system will eventually wither and break down. If left in this state, various blockages may form and restrict the flow or waste and water.
Unfortunately, because pipes won't last forever, they will need to be replaced to ensure that your home has a smooth-functioning sewer system.
As the technology in home sewage solutions advances, we need to remember that not all kinds of materials are still suitable for today's standards. As time passes, more and more materials are falling behind to the more modern options and should therefore be replaced.
A pipe inspection will allow us to assess whether your current sewage solutions are actually doing more harm than good.
Plumbing Sewer Line Replacement
When you encounter sewer issues that can no longer be fixed through repairs or drain-cleaning solutions, it may be time to have your pipes replaced. While a clog may be contributing to your sewage problems, a more complicated issue may be the underlying cause.
To get a better feel of what needs to be done, Jolly Plumbing uses cameras to carefully inspect the sewer pipes throughout your home. Our team can get to the bottom of the problem, provide the right replacement options, and clearly explain how each option can become a solution for your needs.
If you need new construction sewer line installation, you can also count on Jolly Plumbing to work with you through all your needs.
There are various issues that may affect a home's sewer line but there are specific conditions that require the immediate attention of professional plumbers. When a pipe violently bursts, you will need drain line repair services — a qualified plumber is the best person to assist you.
At Jolly Plumbing, our plumbers are available 24/7 to assist you whenever situations like these take place. Our team can provide you with all kinds of repairs, including trenchless repairs and replacement as well as drain cleaning.
Sewer Line Maintenance for Cincinnati and Kentucky
Maintaining your sewer line doesn't have to be a pain. By keeping inappropriate items and materials away from your drains, you can keep it functioning properly. You may also use drain traps to catch food and hair, so they aren't drained through the pipes.
It's also inadvisable to place "flushable" products down your drain because these typically don't break down well. If you're looking for a team of professionals to go through your pipes and provide maintenance on a quarterly or yearly basis, you can count on Jolly Plumbing to check and inspect your sewage system.
Trenchless Sewer Repair Cincinnati
Jolly Plumbing offers our clients a safe and effective way to set up their sewer line through the use of trenchless sewers. If you find that your system is in need of repairs, our
trenchless sewer line repair
services can permanently renew and replace your existing system without the need to dig through your yard or foundation.
This service includes pipe bursting for the replacement of your traditional pipelines, adding sewer lining, directional drilling, and other services.
Work With Jolly Plumbing Today
If you're looking for drain pipe installation in Cincinnati, Jolly Plumbing is one of the leading sewer line replacement companies in the area. With years of expertise and knowledge under our belt, you can trust us to deliver exceptional results every time — whether you're having a system installed, repaired, or replaced. Give us a call today to get started.