Your Humidifier Installation in Cincinnati, OH
If you're in need of a Humidifier installation, Jolly Plumbing Drains Heating and Air is just one call away. Contact us at (513) 443-1315 or schedule a service today.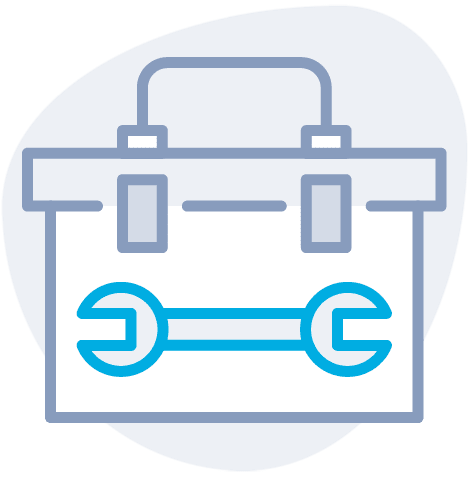 Is the dry air at home causing you and your family great inconvenience? If so, a humidifier is the solution. Humidifiers release stream or water vapor to balance out the humidity levels in your home. These HVAC systems should be installed properly to avoid excessive or insufficient moisture generation. 
For over 40 years, Jolly Plumbing, Drains, Heating & Air has provided flawless humidifier HVAC installation services to Northern Kentucky and Greater Cincinnati residents. Contact us at (513) 644-521, so we can install your home humidifier today.
Benefits of Installing a Humidifier
There are many benefits that you and your house can get from a home humidifier installation.
Improved Indoor Air Quality
Dry air is bad for your health and can make breathing difficult. This problem is exacerbated during spring when dry air is coupled with high pollen counts, which can cause respiratory issues and allergic reactions. Humidifiers counteract dry air and enhance indoor air quality by adding moisture to it, balancing out humidity levels.  
Health Benefits
You are less likely to catch a fever or cold if you use a home humidifier. This is because pathogens can't easily travel in moist air. Coughs and sore throats induced by dry air are likewise prevented. Moreover, the added moisture can make your skin glow and prevent it from flaking or cracking.
Energy Savings
Winter bills are often high due to constant heater usage. A humidifier can decrease your need to raise the thermostat since the water vapor it generates can hold heat. Ultimately, this reduced reliance on high thermostat settings will result in lower electric bills.
Protection of Wooden Furniture and Flooring
Dry air is bad not only for your health but also for your furniture and flooring. The lack of moisture can cause your wooden sofa or table to split or crack. Moreover, it can make your wooden floor brittle and prone to scuffs. By applying adequate moisture to the air, a humidifier can prevent these issues.
Our Approach to Humidifier Installation
At Jolly Plumbing, Drains, Heating & Air, we follow a streamlined approach to humidifier installation. The first step involves you scheduling an HVAC service through our site. Filling out the schedule form will only take you a couple of minutes. 
We'll send a team of professional HVAC technicians to your home on the designated date. They will assess your indoor air problems, determine the root cause, and recommend the appropriate humidifier solution for your space and needs. 
This is followed by a quick, efficient, and safe installation process. After the system is installed, we can guarantee that you'll be a satisfied customer.
There are different types of humidifiers, and the one you'll need will depend on your home's available space and humidity levels.
Central Humidifier
Central humidifiers are great at providing adequate moisture in the air. They keep humidity levels between 40 to 60 F, which is the sweet spot. However, a central air humidifier installation is a bit more tedious since it requires integrating the system into your home's heating and plumbing systems.
Console Humidifier
If you want a humidifier that can provide moisture to your space, but you don't want it to be attached to your other systems, a console humidifier is a good option. Console humidifiers are separate units that can be moved around from one spot of your house to another. This movability is facilitated by the wheels attached to the base of the units.
Whole-house Humidifier
Similar to central humidifiers, whole-house humidifiers are also incorporated into your home's other HVAC systems. They likewise generate optimum moisture levels. Moreover, they can either work independently or simultaneously with the system they're attached to. 
If you want a completely independent solution, you can consider a vent humidifier. Installed on the floor to gain access to forced air from the furnace, this eco-friendly humidifier requires no filters and electricity to function.
Furnace Humidifier
Speaking of furnaces, there are also furnace humidifiers. Furnace humidifier installation requires attaching the humidifier to your home's duct system. It also needs a water source. It works by taking in indoor air flows, absorbing the moisture, and returning it to your home through the furnace in the form of humidified air.
Choosing the Right Humidifier for Your Home
As you choose a humidifier, you have to consider several factors. These include the size and capacity of the unit, its health and safety features, the warranty package, and the type of humidifier you want.
Generally, you'll need bigger units like central humidifiers if you have a large space to humidify. However, other aspects of your home like its layout should be considered too. You must understand the different types of humidifiers, including their limitations, to make an informed decision.
If you need expert advice on what humidifier best fits your home, Jolly Plumbing, Drains, Heating & Air can help you out.
Maintenance and Repair Services
Our services at Jolly Plumbing don't stop after the installation process. We provide regular maintenance, cleaning, troubleshooting, and repair services. If you encounter issues with your humidifier or other HVAC systems, you can contact us through our 24-hour emergency phone line.
To schedule an appointment for home humidifier installation, you can contact Jolly's professional HVAC team through our phone line — (859) 551-0813. Alternatively, you can request a quotation or schedule a consultation by filling out the schedule service form on our website.
Proper humidifier installation is important for home comfort and good air quality circulation. From assessing your home and space to installing the right type of humidifier, Jolly Plumbing, Drains, Heating & Air will be with you at every stage of the installation process. 
For further information and assistance, call us or visit our site.