Gas Line Installation in Kentucky | Jolly Plumbing
Looking for gas line installation in Kentucky? The experts at Jolly Plumbing can handle any issues with your gas line. Give us a call today!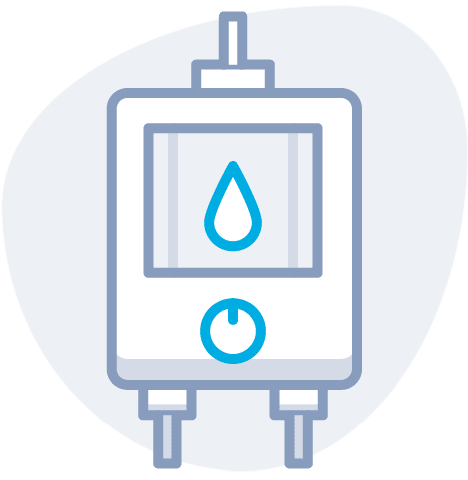 Jolly Plumbing — Gas Line Installation
Most household heating and cooking appliances can be run on inexpensive and readily available natural gas. Gas lines installed in your home allow you to provide your high-tech gadgets with eco-friendly energy. Stoves, water heaters, fireplaces, and clothes dryers are just some of the appliances that can be powered by gas energy. However, these pipelines also require cautious handling to ensure the safe and efficient operation of all your gas-fueled devices.
We at Jolly Plumbing, Drains, Heating & Air are the best people to call if you need gas installation services. Our team of licensed plumbers is dedicated to making your home a safe and comfortable place for you and your household. To schedule gas line installation in Kentucky, contact us at (513) 540-4082.
Gas Line Installation Kentucky: Our Services
Are you interested in making the transition to natural gas for your home's heating needs? Excellent decision! The improvement will make your life easier by lowering your expenses, reducing your carbon footprint, and providing you with better heating and cooking. We can install gas lines for a variety of appliances, such as:

Install Gas Line for Stove or Grill
The addition of a gas stovetop to any kitchen is a welcome convenience. Even if the power goes out, your gas line stove will keep on cooking, and the cost of fuel for your stove won't affect your overall electricity bill. Although the process of installing a gas stovetop is simple, it must be done with caution. If gas lines are not correctly sealed, they might cause poisoning or even an explosion in the household. This involves adhering to established gas plumbing standards. For safe and efficient gas distribution, our gas line installers will design the pipes specifically for your home.

Gas Lines for Water Heaters
Most households will need a new water heater at some point. While there is no hard and fast rule, an electric heater generally has a lifespan of between 8 and 12 years. To get around this limitation, though, you can replace your electric heater with a gas one. Installing gas lines for more efficient water heaters is a simple job for a plumber to handle.

Gas Lines for Fireplaces and Furnaces
Imagine having all the ambiance, warmth, and comfort of a fireplace without the mess, effort, and limits of a conventional fireplace. Most gas fireplaces can be installed wherever you like and require almost zero maintenance.

Benefits of Installing a Gas Line
A gas line offers many benefits, including the fact that it can be used for both indoor and outdoor heating and cooking. Here are some advantages to examine if you're considering making the transition to natural gas or purchasing a new gas-powered appliance:
Convenience: When it comes to energy, natural gas is undoubtedly the most practical option. You won't have to think about running low or finding somewhere to store it because it will be brought directly to your house. Also, it's always accessible, so you may use it whenever you want.
Reliable: Natural gas is among the most dependable energy sources since it continues to provide power even when the grid goes down or when bad weather strikes.
Cost-effective: There are several low-cost energy options, but natural gas is among the best. Quite often, it can even save you money compared to using electricity. As a bonus, natural gas also has a cheaper operating cost than other fuels. What this means is a lower monthly energy bill for you.
Reduce carbon footprint:: Using natural gas is a good option for those who want to lessen their impact on the environment. When compared to other fossil fuels, like coal and oil, natural gas has a lower emissions rate.
Better heating: Hot water is needed for many daily activities, including cooking and taking a shower or bath. Furthermore, heating your home with a furnace is a need in colder climates. Because it generates such high-quality heat, natural gas is an excellent choice for these uses.
Do Plumbers Install Gas Lines?
Yes, they do. There's more to plumbing than just fixing leaky faucets, running toilets, and rusty tanks. It also includes work on gas lines, both new and old.

Why Hire a Professional Gas Line Installer?
Natural gas is a clean and dependable energy source, but it is still recommended that you have an expert install your gas line. Some benefits of hiring a professional are as follows:

Safety: Hiring a qualified expert who can install a gas line for the stove is crucial for several reasons, but the first among them is ensuring your own safety. Any gas leak poses serious health risks and, in certain cases, can even prove fatal. Installing or inspecting your gas line is a job best left to a trained professional.
Right equipment: Experts have the equipment necessary to properly install your gas line. Tools such as pressure gauges and leak detectors fall under this category.
Get rid of guesswork: Many homeowners misjudge the difficulty of installing a gas line. When you hire a professional, you can rest assured that they have the skills and knowledge to get the job done correctly. This ensures a proper gas line installation without any room for error.
Sense of security: Having a Jolly-certified expert install or examine your gas line can put your mind at ease. You can relax knowing that the professionals will take good care of your gas line.
Get in Touch With Jolly Plumbing for Gas Line Installation Kentucky
Natural gas has benefits and risks similar to those of other energy sources. The potential for a gas leak is one of the greatest threats posed by natural gas. Many do-it-yourself handymen insist on doing the work of installing gas lines themselves, which is understandable given their sense of ownership. However, this task is best left to a licensed and insured plumber.
At Jolly Plumbing, we prioritize safety during all our installations. We have licensed plumbers who can handle even the most challenging gas line installation jobs. We have what it takes to finish the project swiftly, effectively, and safely. If you're looking for gas line installation in Kentucky, give us a call at (513) 540-4082.